Posted in: Uncategorized
We met Brynn and Mike two years ago at this very same WPPI photo convention. Its a massive gathering of 10,000 photographers from all over the world … and we always tell ourselves that we'll make a bunch of new friends every year. But its not always that easy. Luckily the Davello's are super friendly and broke through our bubble of awkwardness to help sustain a real friendship.
These two juggle personal projects, a full time photography partnership, 4 kids and a dog (aptly named 'Nikon') and are truly super human. Check out their work www.davello.com
We had a free 20 minutes before dropping them off at the airport after the convention … so we hit the rooftop of a nearby casino for some quick portraits.
For this month's Artwalk, I have a wall all to myself! Very exciting, but also a little overwhelming! Since I'm not quite ready to show my current paintings, I thought it would be fun to try doing an installation for the first time! After sketching out a few different ideas, I decided on this concept!
This is a mannequin that Valerie and I found many years ago in Santa Ana near our old studio. It has always been special to me, so turning her into art just felt right. Special thanks to: Valerie, Roxanna, Candace, and Brian for helping me make this idea into a reality.
Criss crossing
tangled line
dancing through
captive mind
Intersected object
of affection
there must be
balanced imperfection
containing
what must flee
Behind this
parting plea
once captured
now set free:
She is Emmêlée.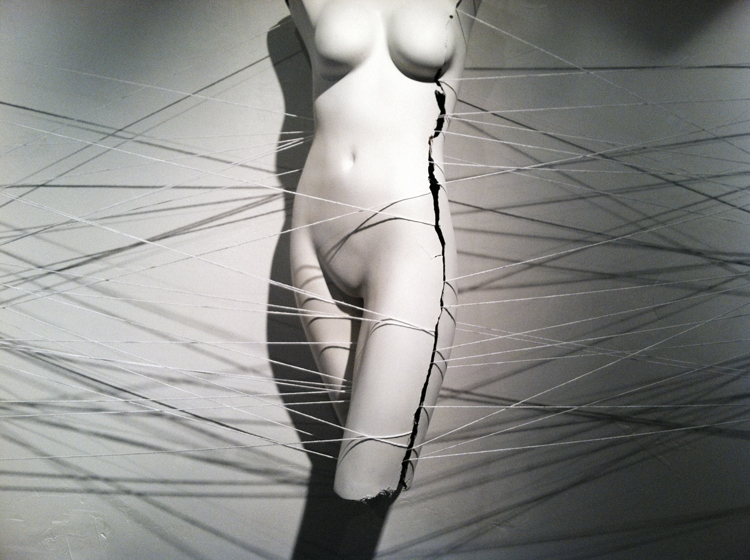 Emmêlée :  "to be tangled" in French (feminine)